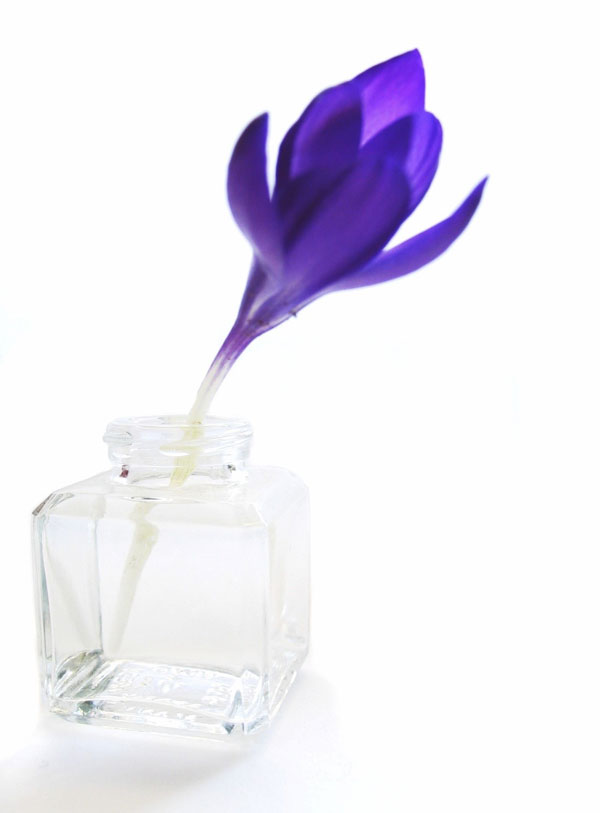 ​
Simply Holistic Therapies has been using Deep Oscillation Therapy (DOT) since 2001.
DEEP OSCILLATION® is an internationally patented, proven technology based on the effects of creating an electrostatic field in the tissue of the patient. Easy application is from therapist to patient/client via hygienic, vinyl gloved hands; utilising all normal massage movements or via circular movements over the tissue with a handheld applicator. The handheld applicator also enables self-treatment.
The special structure of DEEP OSCILLATION® allows the creation of biologically effective oscillations in the treated tissue using electrostatic attraction and friction. In contrast to other therapies, these pleasant oscillations have a gentle and deep-acting effect on all tissue components to an 8 cm depth (through skin, connective tissue, subcutaneous fat, muscles, blood and lymph vessels).
Because of the non-invasive, non-traumatic, gentle nature of this therapy, very early possibilities of application are possible following injury and from Day One post operatively. Chronic conditions can also be worked upon with effective results.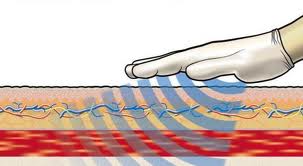 The following physiological effects of DEEP OSCILLATION® are clinically proven:
Highly effective in reducing pain
Anti-inflammatory
Effective in reabsorbing oedema (fluid swelling)
Encouraging wounds to heal
Acts on fibrosis and scar tissue
Improving trophicity
Rubor reduction (haematoma/bruising)
Detoxification
Improving quality of tissue and range of motion
Applicable from day-one post-operatively
No heat – safe to use over pins, plates and implants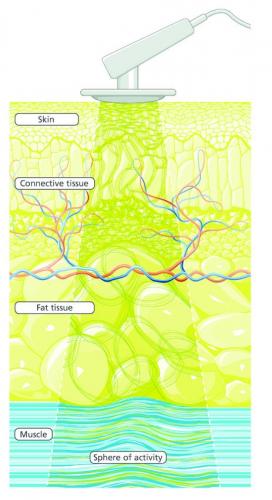 Applications:
Complementary Therap

y
Can be used in conjunction with Manual Lymphatic Drainage (MLD) therapy (for body, and or, facial treatments) + as a pre-cursor to, or during general Holistic Massage sessions.
The benefits of regular massages are fundamental to our long-term physical and mental wellbeing. When a general body massage is combined with Deep Oscillation, the body becomes completely and deeply relaxed within a relatively short period of treatment time (10-15 mins).
Lymphoedema / Chronic Oedema
Reduces fluid swelling in the case of Primary and Secondary Lymphoedema
Lipoedema (Lipedema) / Lipo-Lymphoedema
Is a chronic, hereditary and genetic disorder of the adipose tissue (or body fat) which can be both disfiguring and painful. As Lipoedema progresses, additional, expanding fat cells interfere with the pathways of lymphatic vessels and sufferers can develop secondary Lymphoedema and it then becomes known as Lipo-Lymphoedema
Deep Oscillation can benefit and relieve symptoms associated with with this condition. It is also recommended by some surgeons, pre and post-surgery for patients undergoing tumescent liposuction for Stage 3 Lipoedema.
Fibrosis
Has a preventive and anti-fibrotic effect: incipient fibrosis in particular can be treated effectively. Skin conditions and lymphatic drainage are improved.
Pre- and postoperative therapy
Deep Oscillation can be applied from the first day post- operatively which means patients can rehabilitate in a far quicker timescale than has previously been possible. Bruising, swelling and pain reduce as the daily treatment works on shuffling and transporting the excess inflammatory matter (in evidence after surgery) to the lymph system for removal. Once the area is drained, it is able to regenerate
Pre liposuction DEEP OSCILLATION possesses anti-oedema, lymph drainage, anti-fibrosis and detoxifying properties, it prepares the tissue for liposuction, makes liposuction more effective and durable and protects against adverse effects of the body sculpting procedure
Post vaser liposuction, plastic and general surgery
Deep oscillation therapy has proven effects in post (plastic & general) surgery and liposuction interventions. It reduces pain and oedema, improves mobility and promotes wound healing among other effects
Chronic pain syndromes
Conditions such as fibromyalgia syndrome which are accompanied by chronic pain, Deep Oscillation has a strong pain relieving effect. The treatment promotes mobilisation to a great extent, alleviates muscle stiffness and tackles impairments in activities of daily life, with consequent positive effect on fatigue, fears and depression.
Burns
Can be applied as treatment to the wounded area or its immediate surroundings. There is a visible improvement of decongestion and supply, enhancing a dynamic wound healing.
Mechanical traumata and damage from overstraining
In the case of traumata and damage from overstraining, Deep Oscillation has a direct oedema- and pain-reducing effect and consecutively stimulates self-mobilisation in pain-relieved areas, thus enabling an early return to active life. For sportspersons it means an earlier commencement of active forms of therapy and training, for 'normal' patients a swifter return to activities in daily life.
For the treatment, the patient holds a titanium neutral element loosely between the fingers. The pleasant therapy effect of Deep Oscillation is created beneath the gloves of the therapist or the hand applicator, which is moved in a circular motion above the tissue.
​Further research information and study references can be obtained by visiting Physiopod